This is an archived article and the information in the article may be outdated. Please look at the time stamp on the story to see when it was last updated.
A postal carrier was injured Monday when she was thrown from her truck during a collision with a pick-up driven by a 13-year-old boy, police said.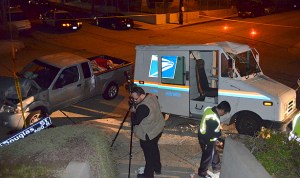 It happened around 3:45 p.m. at the intersection of Douglas Street and Calumet Avenue in Angeleno Heights, according to LAPD Central Traffic Bureau.
According to investigators the juvenile ran a stop sign, colliding with the postal truck.
The impact forced the postal truck off the road and into a stop sign, police said. The truck overturned on its right side, ejecting the driver and pinning her under the vehicle.
The boy fled the scene but returned with his family, police said.  He has been arrested.
The postal employee was transported to a hospital with head injuries and a possible fractured or dislocated hip, police said.  She was reported in stable condition.