This is an archived article and the information in the article may be outdated. Please look at the time stamp on the story to see when it was last updated.
COMMERCE, Calif. (KTLA) — A U.S. postal worker, accused of choking an 11-year-old girl who allegedly made fun of him, pleaded not guilty Wednesday to one count each of cruelty to a child and assault on park property.
The alleged incident happened on Monday afternoon at a bathroom at Bristow Park in the city of Commerce.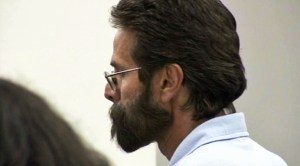 The girl told deputies that a postal worker, identified as Daniel Villasenor, had choked her for laughing at him when he tried to use the restroom and inadvertently entered the women's restroom.
Authorities have surveillance video of the incident and several witnesses who heard the girl screaming, one of whom told Villasenor to let the victim go.
Villasenor, 55, of Temple City, was later arrested for felony willful cruelty to a child.
Postal officials say Villasenor was on duty at the time of the incident.
He has since been taken off duty in a non-pay status while the incident is investigated.
Villasenor has worked for the Postal Service since 1981.
Bond was set at $100,000.
If convicted, Villasenor faces up to one year in jail.
Anyone with information about this incident is encouraged to contact the Los Angeles County Sheriff's Department's Homicide Bureau at (323) 890-5500.
Tips can be made anonymously by calling Crime Stoppers at (800) 22-TIPS (8477).