This is an archived article and the information in the article may be outdated. Please look at the time stamp on the story to see when it was last updated.
Deputies arrested a wanted AB 109 probationer and seized pounds of methampetamine and heroin --along with a handgun, other weapons and cash -- on Friday, officials said.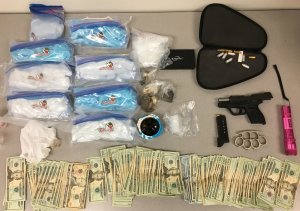 The Santa Barbara County Sheriff's Office's AB 109 Compliance Response Team task force had been on the hunt for Erik Duran, 35, of Santa Maria, department spokeswoman Kelly Hoover said in a written statement. He was a convicted felon who ha absconded from his AB 109 "Post-Release Community Supervision."
Investigators tracked Duran to a storage facility in the 300 block of Roemer Way, Hoover said. The team found him hiding in the the rear cargo area of a vehicle parked near at the facility.
"A search of Duran's vehicle revealed 7-and-a-half pounds of methamphetamine,  half-pound of heroin, over $3,000 in cash, a loaded 9mm semi-automatic handgun, 17 rounds of handgun ammunition, brass knuckles and a (stun gun) disguised as a flashlight," she said.
He was booked on suspicion of possession of drugs for sales, possession of a concealed handgun with narcotics for sale, being a felon in possession of a firearm, being a felon in possession of ammunition, being a felon in possession of a stun gun, possession of brass knuckles, resisting arrest and violating probation, officials said.
Duran, whose occupation was listed in booking records as "laborer," was being held without bail pending his initial court appearance, Santa Barbara County booking records show.