This is an archived article and the information in the article may be outdated. Please look at the time stamp on the story to see when it was last updated.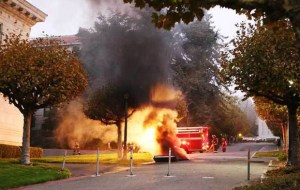 An explosion and campus-wide power outage forced the evacuation of several buildings at UC Berkeley on Monday evening and may have resulted in injuries, authorities said.
The outage began just before 5 p.m. and affected numerous building including Strawberry Canyon, University Hall, the Chancellor's residents,  Christine Shaff, communications director for Facilities Services told the school newspaper the Daily Californian.
A theft of copper wire from the university's high-voltage system may have triggered the power failure and resulting explosion,  Shaff said.
Some students reported the outage was linked to an explosion at California Hall, according to the school's twitter account.
The school sent out a campus-wide alert through its WarnMe system cancelling classes for the rest of the day.
That was followed by a more urgent alert on twitter at 7 p.m. stating, "UC alert declares campus emergency, asks all students to evacuate and return to their residences."
There were reports of injuries but the exact number was not immediately known.
"BREAKING: Berkeley fire chief Gil Dong says people have been injured, no information on how many. Updates to follow." the school tweeted around 7:30 p.m.
The school later said one person was transported to the hospital with minor injuries.  Several other people were treated at the scene, officials said.
A number of people were also stranded in elevators when the power went out.  They had all been safely rescued.
School officials have not said whether classes would resume Tuesday.