This is an archived article and the information in the article may be outdated. Please look at the time stamp on the story to see when it was last updated.
A shelter-in-place order was temporarily issued for Torrance residents near the former Exxon Mobil refinery due to a flaring event Tuesday morning that followed power outages affecting more than 100,000 customers in the broader South Bay area.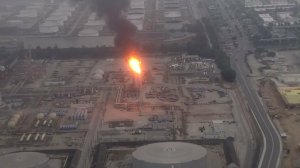 Large flames were coming from the refinery, now owned by PBF Energy, just before 6 a.m. as Sky5 was flying near the area. The flaring was continuing into the 8 a.m. hour.
Power appeared to be out at the refinery and in the areas surrounding the facility, video showed.
The city of Torrance sent out an emergency notification about 6:45 a.m. asking people who live near the refinery to shelter in place. The order was lifted at 7:12 a.m.
"Stay inside buildings, shut all doors and windows, turn off air conditioners, and turn off all air handling systems," the alert stated.
Power outages were reported in Torrance, Hermosa Beach, Manhattan Beach, Redondo Beach, Hawthorne, Westmont, Gardena and South Los Angeles, according to Southern California Edison.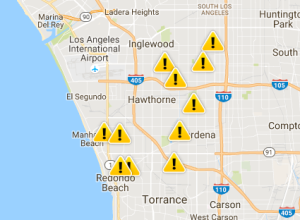 More than 102,000 customers were without power, according to the SCE website. Most of the outages were expected to be restored by 7:30 a.m., according to SCE.
The outage caused the loss of power at the refinery, prompting it to shut down for the second time in a month, according to the Los Angeles Times. The plant also lost power and was forced to shut down on Sept. 19 due to an offsite transformer failure.
Flaring was expected to continue for several days while the plant comes back online, the city of Torrance told residents.
PBF Energy assumed ownership of the refinery in July. The company's western region president, Jeffrey Dill, told the Times it will take days to bring the plant back to regular operations.
"This time we lost power for over 20 minutes," Dill said. "It was literally a complete power failure."