This is an archived article and the information in the article may be outdated. Please look at the time stamp on the story to see when it was last updated.
All planes were grounded at John Wayne Airport in Orange County Friday as staff worked to identify the cause of a power outage.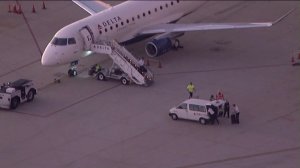 Inbound traffic was also being diverted, the airport said shortly after notifying the public of the outage around 7 p.m.
The airport advised travelers to check with their airlines regarding any delays or cancellations.
It was unclear whether the entire facility was without power. Officials said there was an outage in "the terminal," but there are multiple terminals.
Officials initially said the airport was experiencing a "full ground stop" as a result of the outage, but issued an update shortly after 8 p.m. saying the facility was under a "full operational stop."
"All inbound flights are being diverted, all outbound flights cancelled," JWA said via social media. "Please check with your airline for more information including flights scheduled to depart tomorrow."
Commercial flights were expected to remain grounded through at least 7 a.m. Saturday, airport officials said. General aviation was not affected.
The county-owned airport is on unincorporated land surrounded by Irvine, Newport Beach and Costa Mesa.
Southern California Edison's online outage map said power was knocked out for more than 28,000 customers in the Irvine area. Most customers had their power back before midnight, according to the utility.
Firefighters responded to a fire at an SCE electrical vault at Jamboree Road and Michelson Drive about the same time the outage was reported, officials said.
Portions of the University of California, Irvine campus were affected by the outage, school officials said.
The vault fire "may have cause" the outage at the airport, Orange County Fire Authoritiy officials said via social media.
No further details were immediately available.
KTLA's Brian Day contributed to this story.
There is currently a power outage in the Terminal. We are working to identify the cause. More details will be provided as it becomes available. Please check with your airline regarding any delays or cancellations.

— John Wayne Airport (@JohnWayneAir) August 3, 2019
Update 1: There is currently a full ground stop. Any inbound flight to JWA will be diverted. Guests who are picking up passengers are advised to call the airline for more information.

— John Wayne Airport (@JohnWayneAir) August 3, 2019
Update 2: JWA is in a full operational stop. No arrivals or departures. All inbound flights are being diverted, all outbound flights cancelled. Please check with your airline for more information including flights scheduled to depart tomorrow.

— John Wayne Airport (@JohnWayneAir) August 3, 2019
Update 3: All Terminal power slowly coming back online. General Aviation flights unaffected and Air Traffic Control Tower is open. The full operational stop is in effect until 7 a.m. For flights departing tomorrow, please check with your airline for more information.

— John Wayne Airport (@JohnWayneAir) August 3, 2019
Final update: Commercial ground stop in effect until tomorrow morning at 7 a.m., general aviation aircraft are not affected. For flights departing tomorrow, please verify flight status with your airline.

— John Wayne Airport (@JohnWayneAir) August 3, 2019
Due to a fire at one of our substations, approximately 26,000 customers are currently without power in the #Irvine area. Crews are on scene and working to restore power. If your power is out, please go to https://t.co/6lllA37cTZ to receive the latest updates.

— SCE (@SCE) August 3, 2019
Parts of the @UCIrvine campus are affected by the @SCE power outage. Outage updates available at https://t.co/Oqr3EO328c pic.twitter.com/JTVyWirbKX

— UCI Police Department (@UCIrvinePD) August 3, 2019
Pets are welcome at the Care and Reception center at Northwood High. Pet owners should bring food, water and supplies for their pets. Dogs on leashes; other pets in carriers. #IrvineOutage pic.twitter.com/LqIYVjXLt4

— Irvine Police Department (@IrvinePolice) August 3, 2019