This is an archived article and the information in the article may be outdated. Please look at the time stamp on the story to see when it was last updated.
Disneyland visitors expressed frustration and anger Wednesday after a power outage temporarily shut down a dozen attractions, creating a not-so-happy experience on one of the busiest days of the year for the popular theme park.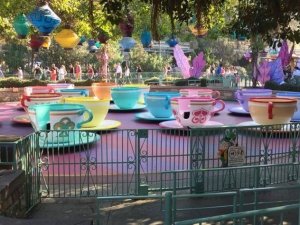 An issue with a transformer knocked out power to Mickey's Toontown, as well as parts of Fantasyland and Big Thunder Mountain shortly before 11 a.m.
Many were left in the dark while they were stranded on stopped rides, including Geoff Fienberg, who tweeted about his experience and told CNN it was about 25 minutes before guests were escorted off. Others were stuck for 30 minutes or more, according to some park guests.
By 1 p.m., Disneyland was only accepting guests for re-entry, although Disney California Adventure Park remained open.
Inside Disneyland, parkgoers described a chaotic and crowded environment as guests tried to walk from area to area, looking for any ride or attraction that was still operating.
"It was chaos, it was like a mob scene," said Lorraine Navarrette, who was visiting the Anaheim theme park from Sacramento.
Hailey Burbidge, who was on vacation with her family from Utah, said the large number of people made it difficult to do anything.
"I'm used to the crowds, the crowds don't usually bug me but … you couldn't do anything today," she said. "Shoulder-to-shoulder, everywhere you went, we couldn't push strollers through anything."
Ty Burbidge told KTLA that it was difficult to even move once they got into the main part of the park. He added that he even saw people getting pushed around.
Power was restored and all attractions were fully operational as of 5 p.m., according to a tweet from Disneyland Resort, Disney's official in-park Twitter account. Disneyland was also once again admitting new visitors.
"We sincerely apologize for the inconvenience to all of our Guests who were impacted by today's power outage at Disneyland," a separate tweet from the account read.
The power outage came on a day where Disneyland was expecting packed crowds, as is typical the week between Christmas and New Year's Day.
Guests paying for a one-day ticket to the park shelled out $124, the most expensive one reserved for "peak" days in Disney's tiered pricing system. Because of the high volume of guests, all but one Annual Passport — the $1,049-Disney Signature Plus Passport — are blocked out during the end-of-the-year holiday period.
"As for refunds, it will be on a case-by-case situation handled by guest services," spokeswoman Elva Rubalcava told KTLA.
Some outraged visitors took to Twitter and responded to the series of tweets from the Disneyland Today account, inquiring about getting refunds. It was unclear if any were immediately given, as the account was asking people to message them directly.
"I felt like the customer service could have been a little better," Hailey Burbidge said. "I'm never disappointed in Disney, but they were not in a rush to hand people any sort of help."
When the ride breaks down @Disneyland #ItsASmallWorld pic.twitter.com/bDoCbsRjav

— Geoff Fienberg (@gfienberg17) December 27, 2017
How's @Disneyland gonna have a power outage the day we paid $124 for peak day tickets?! 🙄

— Sarah Mansoor (@idkmybff_Sarah) December 27, 2017
Ever heard of overcrowding, @Disneyland?! pic.twitter.com/plrv0mjGd5

— Sarah Mansoor (@idkmybff_Sarah) December 27, 2017
Got stuck for 30m w/ 3 small kids on "it's a small world" at @disneyland when the power went out. Backup generator turned on, letting one speaker turn on. Darn song is really stuck and kids can't stop singing it.

— danah boyd (@zephoria) December 27, 2017
https://twitter.com/MissDiagnosed_2/status/946115667517775873
Disneyland is full. Some rides are starting to get power again slowly. pic.twitter.com/CdpiUlRhEA

— Robert Yocum 📎🌍🗽 (@rcymozart) December 27, 2017
https://twitter.com/MilpitasNinerGu/status/946118349481639936