This is an archived article and the information in the article may be outdated. Please look at the time stamp on the story to see when it was last updated.
A single winning ticket in Indiana won the $435-million Powerball jackpot on Wednesday night.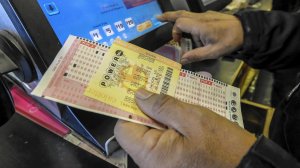 The winning numbers drawn in the game were 10, 13, 28, 52 and 61. The Powerball number was 2.
The grand prize climbed to $403 million by Wednesday morning, making it the tenth largest jackpot in the game's history, before it jumped again ahead of the drawing.
The identity of the winner was not immediately known.
Anyone who wins the jackpot can choose to take their winnings in an annuity paid out over 29 years, or a lump sum payment.
The last time a Powerball jackpot rose above the $400 million mark was last November — the third time it climbed higher than that figure in 2016 — when it hit $420 million.
In July, a single-winning ticket in New Hampshire claimed a $478 million grand prize, which was the fifth largest in the game's history.
But the biggest jackpot of the year, which was also by far the largest ever for Powerball, was the staggering $1.6 billion prize that was split between three winners in California, Florida and Tennessee in January 2016.
The odds of matching all six numbers are roughly 1 in 292 million, according to the lottery's website.
Powerball is played in 44 states, along with Washington D.C., Puerto Rico and the U.S. Virgin Islands.
Drawings are held on Wednesdays and Saturdays at 8 p.m.