This is an archived article and the information in the article may be outdated. Please look at the time stamp on the story to see when it was last updated.
A powerful storm system, which could bring up to three inches of rain to parts of Southern California, arrived Thursday evening and continued to move through the region Friday morning.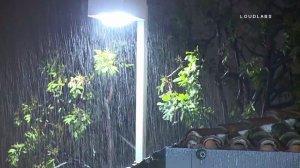 The heaviest showers were expected overnight and into the early morning hours, but showery rain is expected to continue through much of Friday afternoon, according to the National Weather Service.
The storm is expected to bring between 1 and 3 inches of rain to the foothills and south-facing mountain areas.
Our coasts and valleys are likely to see between a half inch and an inch and a half of rain, according to the Weather Service.
The steady rain is likely to result in dangerous driving conditions on our local freeways resulting in lengthy commutes Friday morning.
A big rig driver was killed after his truck overturned on the transition road from the westbound 105 Freeway to the northbound 710 amid the wet conditions early Friday morning.
Drivers are asked to leave early and drive slower than usual due to the unpredictable conditions.
Flash floods and debris flows are a danger for recent burn areas Friday morning, according to the Weather Service.
Flash Flood Watches have been issued until 6 a.m. for the burn areas of Los Angeles and Ventura Counties.
A Flash Flood Watch was also issued until noon for areas of the San Bernardino County Mountains.
Snow fell only at the higher elevations overnight, but levels were expected to drop between 4,000 and 5,000 feet by late afternoon, then falling as low as 3,500 feet Friday night, the Weather Service stated.
Light snow accumulations and gusty winds will be possible on the 5 Freeway near the Grapevine Friday night.
Drivers were warned the wind and snow could create near zero visibility at times through the area.
The storm is expected to exit the area Friday evening, making way for drier conditions over the weekend.