This is an archived article and the information in the article may be outdated. Please look at the time stamp on the story to see when it was last updated.
Mandatory evacuations were ordered and a portion of Pacific Coast Highway was closed early Friday as a powerful storm slamming Southern California brought heavy rain and strong winds to the region, triggering mudslides and flooding, and leaving tens of thousands of residents without power.
At least eight homes were significantly damaged in the storm, while a second-story balcony completely collapsed from a structure in Long Beach.
Multiple vehicles were also damaged as intense downpours and gusty winds toppled trees throughout the region.
The National Weather Service warned that the major storm, which began hitting the area Thursday night, could produce intense rainfall, damaging winds, dangerous cloud to ground lightning, and created the potential for waterspouts and small tornadoes.
At its peak, which was expected to last for two hours, rainfall rates of up to an inch per hour would be possible, according to the weather service.
Federal forecasters on Thursday had predicted the "strong storm" could dump up to 4 inches of rain in mountain and foothill areas and up to 2 inches in the coastal and valley areas of Los Angeles and Ventura counties.
Orange County and the Inland Empire were expected to receive less precipitation but also see high winds and possible flooding. The heaviest rain was forecast to arrive in Orange and San Bernardino counties after 4 a.m., with heavier precipitation expected through 8 a.m., according to the weather service.
The weather service extended a flash flood that was in effect for the Colby, Williams, Madison and Tecolote burn areas until 10:15 a.m.
A flash flood warning also was in effect Orange County around the Silverado Canyon Fire burn area.
The threat of mudslides and flooding prompted both mandatory and voluntary evacuation orders in multiple areas, including in the Silverado Canyon burn area. The order was for all residents living east of 30311 Silverado Canyon Road, according to the Orange County Emergency Operations Center.
The mandatory evacuations were lifted at 2 p.m., the Orange County Sheriff's Department stated in a news release.
In anticipation of the storm, the Glendora Police Department on Thursday night raised its alert level to red for the Colby Fire Impact Area, meaning mandatory evacuations were required for several streets.
"If conditions become too unsafe to evacuate, move to the highest safe place inside of your residence and shelter in place," the department stated on its Facebook page.
After a night of heavy rain, Glendora police reported Friday morning that there was "significant mud and debris flow" on Rainbow Drive north of Sierra Madre Avenue. The area had already received nearly an inch of rain by 6:45 a.m.
Glendora police lowered the alert level to Yellow at about 6 p.m., meaning evacuations became voluntary. But police said rain-related parking restrictions remained in effect.
A mandatory evacuation was also temporarily issued Friday morning on the east side of Ridgeview Drive in Azusa and went into effect immediately, police said.
Residents had been encouraged to evacuate their homes immediately and move away from the hillside, according to the Azusa Police Department.
By 9:45 a.m., the mandatory evacuation was lowered to a voluntary one, a tweet from Azusa police stated.
An evacuation center for the Glendora and Azusa areas was opened at the Crowther Teen Center at 241 W. Dawson Ave., located just west of Glendora Avenue and south of the 210 Freeway, the statement read.
In the Riverside County city of San Jacinto, residents were also under a mandatory evacuation order that went into effect at 4 p.m. Thursday. The order included the Valley View Apartments, which were located in the same area that saw mud and debris flow during last week's storm.
Part of Soboba Road was closed.
A mandatory evacuation order was also issued by the Ventura County Sheriff's Office in Camarillo Springs, where mudslides were a major concern last week. The evacuation order was for homes on San Como Lane.
The area is near the Springs Fire, which burned nearly 38 square miles in May 2013.
Eight homes in the area were significantly damaged after the storm triggered a rockslide in an area, according to the Ventura County Sheriff's Office. An elderly couple had to be rescued after they became trapped in their home after mud and debris entered their home in the middle of the night, pushing them off the bed and pinning them up against a wall.
A Red Cross shelter in the area was open. It was located at 1200 Leisure Village Drive.
The mandatory evacuations were lifted just after 2 p.m., according to the Sheriff's Office.
Meanwhile, the severe weather caused mudslides and flooding that left a number of a roadways closed.
Flooding in the Sepulveda Basin led to multiple street closures in the surrounding area, according to the Los Angeles Police Department's West Traffic Division.
The Sepulveda Basin was also closed because of high water.
Pacific Coast Highway was shut down in both directions between Yerba Buena and Las Posas Road because of a mudslide, according to the Ventura Sheriff's Office.
Westlake Boulevard was also closed at Mulholland Highway because of a mudslide and low hanging power lines, a news release from the L.A. County Sheriff's Department.
The 710 Freeway was also briefly closed at PCH in Long Beach because of flooding, but was reopened by 5:40 a.m.
It was not immediately clear when it would be reopened.
Severe weather conditions also forced Amtrak to temporarily suspend service on its Pacific Surfliner route between San Luis Obispo and L.A., Amtrak announced Friday morning in a news release. No alternate transportation would be provided.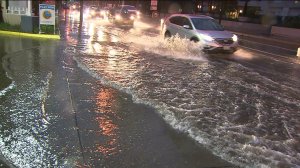 Service on the Coast Starlight between San Luis Obispo and L.A. was also suspended, but passengers would be provided alternate transportation, the release stated.
The Pacific Surfliner was still operating between L.A. and San Diego.
The massive storm also left tens of thousands of residents in the area without power.
By 3:30 p.m. power had been restored to more than 22,000 LADWP customers, leaving about 12,000 still without power, according to an update from the company.
As of 3:30 p.m. power had been restored to all but 7,706 Edison customers in Southern California. The hardest-hit regions were Los Angeles County with 2,876 customers without power, Ventura County with 1,578 without power and Orange County with 1,451 customers without service.
It was not immediately clear when service would be fully restored to the affected areas.
The rain, which comes a little over a week after a dayslong storm that broke rainfall records in some part of Southern California, was expected to taper off by Saturday morning.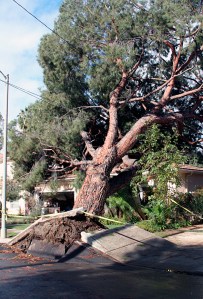 Forecasters were warning of strong, potentially damaging winds that could bring gusts of up to 60 mph in the mountain areas of Ventura and L.A. counties. A high wind watch was also in effect in the mountain and desert areas of San Bernardino County through Friday morning.
In coastal Orange County, which was under a high surf advisory, the storm was forecast to generate large west-to-northwest swells through the weekend, with large surf as high as 14 feet possible along west-facing beaches, federal forecasters said.
The elevated surf could bring rip currents and create hazardous swimming conditions through the weekend before subsiding early next week.
The storm was expected to taper off through the day, but forecasters warned that although thunderstorms Friday evening would be weaker than the ones overnight, they would still produce gusty winds, small hail and brief heavy rain.
KTLA's Melissa Pamer and Kennedy Ryan contributed to this report.
More video: