This is an archived article and the information in the article may be outdated. Please look at the time stamp on the story to see when it was last updated.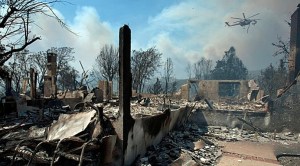 PALMDALE, Calif. (KTLA) — Hundreds of people remain under mandatory evacuation Monday, but thousands of others were allowed to return home as firefighters gained the upper hand on the massive "Powerhouse Fire."
The blaze had burned 32,008 acres and was 60 percent contained as of 7 p.m., according to the Los Angeles County Sheriff's Department.
It has destroyed six homes and damaged at least nine others, officials said.
More than 1,200 structures were threatened by the fire.
Around 2,100 firefighters from throughout California were battling the flames, aided by water-dropping aircraft.
Authorities had estimated that they would completely contain the fire by Wednesday, but they pushed that date back until next Monday.
The cost of fighting the fire has already reached $2.7 million, according to officials.
Some 2,800 people from about 700 homes in the Lake Hughes and Lake Elizabeth neighborhoods were allowed to return Monday.
The Antelope Acres area remained under evacuation.
A Red Cross evacuation center was set up at the Marie Kerr Park recreation center at 2723 Rancho Vista Blvd. in Palmdale.
An evacuation site for large animals was set up at the Antelope Valley Fairgrounds at 2551 West Avenue H in Lancaster.
Smaller animals were being accepted at the Lancaster Animal Shelter, at 5210 W Avenue I in Lancaster, or at the Castaic Animal Shelter, at 31044 Charlie Canyon Road in Castaic.
Dry brush combined with high temperatures, low humidity and fierce winds have posed major obstacles for firefighters.
In some areas, the brush hasn't burned since 1929, according to officials.
Wind gusts reached 4o to 45 mph in the area over the weekend. The winds were not as strong overnight on Sunday, which allowed firefighters to set some backfires.
The National Weather Service issued a wind advisory for the Antelope Valley, including Lancaster and Palmdale, from 10 a.m. to 9 p.m. on Monday.
Southwest winds of 20 to 30 mph were expected, with gusts up to 45 mph, peaking in the late afternoon and evening.
Over the next 48 hours, the winds were expected to decrease and humidity was expected to rise as an onshore flow returns, forecasters said.
The fire broke out shortly before 4 p.m. last Thursday near a Los Angeles Department of Water and Power facility in San Francisquito Canyon, near Drinkwater Reservoir.
Three firefighters suffered minor heat-related injuries, officials said.
The cause of the fire remained under investigation.