This is an archived article and the information in the article may be outdated. Please look at the time stamp on the story to see when it was last updated.
A San Jacinto family is mourning a 29-year-old mother of three, who died along with her unborn child after colliding head-on with a suspected DUI driver over the weekend.
Krystil Kincaid was driving her Chrysler minivan north on Warren Road around 8:30 p.m. Sunday when a BMW heading southbound veered into her lane and struck her between Devonshire and Esplanade avenues in Hemet, according to Hemet police.
The blue BMW had been driving at a high rate of speed, investigators said.
Officials who responded to 911 reports of the crash found the silver van was partially on fire. After firefighters put out the flames, first responders had to extricate Kincaid — who was eight months pregnant — from her vehicle, police said.
Both Kincaid's legs had become pinned underneath her dashboard due to the extensive damage her car sustained, according to a GoFundMe page created to raise funds for her memorial costs.
Her husband of 12 years, Zach Kincaid, told KTLA she had him on speakerphone as the crash occurred.
He said he could hear her scream before impact, then the sound of metal and firefighters using the jaws of life as they tried to pull her from the wreckage. It's a memory that will haunt him, he said.
Krystil was flown by helicopter to a nearby trauma center, and officials had originally said she was expected to survive.
But according to Zach, she and her unborn child were legally dead as of Tuesday. Krystil remained on a breathing device only so that her organs could be harvested for donation, he said.
She leaves behind an 11-year-old daughter, two sons ages 8 and 4 and a 14-year-old stepchild.
Zach wrote on his Facebook page that sharing the traumatic news with his children was "the hardest thing i have ever done."
"I told my 2 daughters and my 2 sons that a drunk driver killed their mom," he wrote. "The pain and anger I feel within my soul is immeasurable, my heart is broken. Until we meet again Raven…"
In an interview with KTLA, he said the children had gone to the hospital expecting to welcome a new family member.
"They thought they had a baby sister here," Zach said. "They got the worst news of their life. They were told that they don't have a mom, or a baby sister, anymore."
Police said they found the BMW driver, identified as 28-year-old Burbank resident Marcos Forestal, walking near his wrecked car.
Forestal, a native of Cuba, is the reigning World Boxing Federation International Super Bantamweight champion.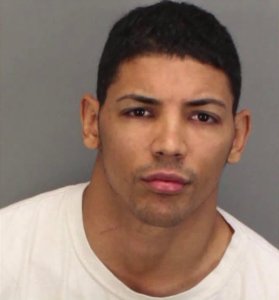 According to El Nuevo Herald, a Spanish-language newspaper in southeast Florida, Forestal livestreamed the aftermath of the crash as first responders were arriving.
"Guys a car appeared and I had an accident," the man identified as Forestal is heard saying as he videos the mangled remains of his BMW. "Look at what happened to me, gentlemen. A car came out in front of me and look and what happened to my car."
Forestal showed signs of alcohol intoxication and was arrested on suspicion of driving while intoxicated and causing a collision that resulted in major injuries, officials said.
But after Kincaid and her fetus died, the arrest charge was upgraded to gross vehicular manslaughter while intoxicated, inmate records indicate.
The suspect was also treated for minor injuries at a local hospital before being taken to the Riverside County Jail.
Forestal was being held on $75,000 bail, according to inmate records.
The boxer's manager, Christina Carrillo at JAB Management, said in a statement emailed to KTLA: "I would like to extend my deepest condolences to those that have lost their loved ones in this horrible tragedy. At this time, we are cooperating fully with the ongoing investigation."
As of Tuesday night, Kincaid's GoFundMe campaign had raised more than $18,000 of its $20,000 goal.