This is an archived article and the information in the article may be outdated. Please look at the time stamp on the story to see when it was last updated.
A magnitude-3.1 earthquake struck near Rowland Heights on Sunday evening, according to the U.S. Geological Survey.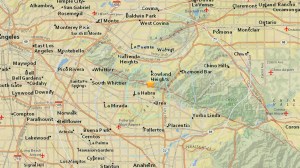 The quake hit at 7:13 p.m. and was measured at a depth of two miles, the agency said. Its epicenter was located two miles east of Brea and five miles north-northeast of Fullerton, where resident Pamela George said "it was like a train going through the house."
More than 700 people in 65 zip codes reported feeling the temblor, according to the Geological Survey's website, USGS.gov.
Mercedes Espinosa, who lives in Hacienda Heights, said on Facebook that she felt "a short jolt, nothing crazy."
There were no reports of injuries or damage.