This is an archived article and the information in the article may be outdated. Please look at the time stamp on the story to see when it was last updated.
An earthquake with a magnitude of 3.6 struck the Ridgecrest area early Tuesday morning.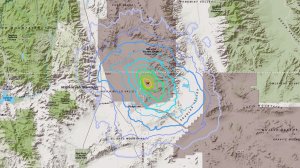 The temblor hit at 6:11 a.m. about 9 miles north-northeast of Ridgecrest, according to the U.S. Geological Survey.
There were no immediate reports of injuries or damage.
The area was struck by a powerful 6.4 earthquake on the Fourth of July that prompted officials to declare a state of emergency.
Less than two days later, the region was hit by a 7.1 magnitude quake that shook buildings and left dozens of homes uninhabitable in the Trona area.
Tuesday's event caused moderate shaking in Trona, with light shaking reported as far away as Bakersfield, according to the U.S.G.S.