This is an archived article and the information in the article may be outdated. Please look at the time stamp on the story to see when it was last updated.
A magnitude 4.2 earthquake jolted the Twentynine Palms area on Monday morning, more than two weeks after a pair of powerful temblors rattled the region, according to the U.S. Geological Survey.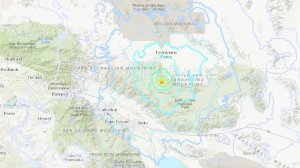 The quake struck about 9:26 a.m. and was centered nearly 10 miles south of Twentynine Palms and 23 miles north-northeast of Coachella, USGS reported.
It was initially reported to be a 4.4 before being downgraded to a 4.2.
The first quake was followed about an hour and a half later by a small 2.2 temblor, according to USGS.
There were no immediate reports of damages or injuries.
Twentynine Palms is about 180 miles southeast of Ridgecrest, where magnitude 6.4 and 7.1 quakes struck on July 4 and 5 respectively.
That area has been shaken by thousands of aftershocks since the Fourth of July, including at least 70 with a magnitude of 4.0 or greater.