This is an archived article and the information in the article may be outdated. Please look at the time stamp on the story to see when it was last updated.
An investigation continued Monday after a man was arrested a day earlier for allegedly stabbing a security guard at a church in Jefferson Park, authorities said.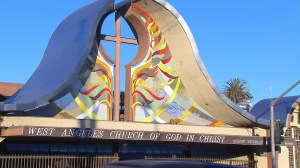 The incident occurred about 6 p.m. Sunday at the West Angeles Church of God in Christ, which is located at 3045 Crenshaw Blvd. (map), Los Angeles Police Department Sgt. Jorge Oseguera said.
The security guard had been watching the unidentified man for about an hour because he was apparently acting strange, police said. At some point the situation turned violent, and the security guard was stabbed in the neck, authorities said.
The victim was transported to a hospital, where he was listed in stable condition, Oseguera said. He was expected to make a full recovery.
It was not immediately clear if the man in custody was a member of the church.
Church leaders said they have always tried to make security a priority, and they planned to continue doing that.
"This is the environment that we're called to serve," said Minister Charles E. Blake II, the church's assistant pastor. "This is where West Angeles is. These are the people that we're serving. We will try to help anyone."
"There have been certain situations when thing have gotten out of hand," Blake said. "But … we have an excellent security team, and we want to provide the safest environment possible for people to be able to worship."
Another security guard was seen standing in front of the church Monday morning, according to KTLA reporter Lynette Romero.
Anyone with information about this incident was urged to contact the LAPD at (877) 527-3247.
KTLA's Lynette Romero, John A. Moreno and Juan Flores contributed to this report.