This is an archived article and the information in the article may be outdated. Please look at the time stamp on the story to see when it was last updated.
A procession took place in Downtown L.A. on Friday afternoon for a Los Angeles Fire Department battalion chief who died following a medical emergency.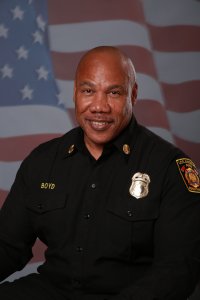 Jerome Boyd, 55, was driving near downtown shortly before 11 a.m. when he suffered the medical emergency, according to an LAFD news release.
He was transported by an LAFD ambulance to California Hospital where he died.
Video from Sky5 showed a traffic collision involving a Crown Victoria vehicle marked with a Los Angeles Fire Department emblem on the side and a pickup truck near 17th and Los Angeles streets.
A cause of death was not immediately known; the L.A. County coroner's office will perform an autopsy to determine one, according to LAFD.
Boyd was a 30-year veteran of the department and was assigned to the Fire Prevention Bureau's public safety section, according to the news release.
"I join the men and women of the LAFD in mourning Chief Boyd's sudden passing," LAFD Chief Ralph Terrazas said in the release. "It is always an unexpected tragedy to lose one of our own and my thoughts and prayers are with his family at this difficult time."
Los Angeles Police Department Chief Charlie Beck also expressed his condolences.
"Very sad to learn of the on-duty passing of @LAFD Battalion Chief Boyd today. The thoughts & prayers of the #LAPD are w/ his family tonight," Beck tweeted.
Mayor Eric Garcetti also released a statement on Friday night.
"Firefighters put their lives on the line for our safety every day. And when we lose one of these brave first responders, everyone in our city feels the pain of that loss," he wrote." My thoughts and prayers are with the family, friends, and colleagues of Los Angeles Fire Department Battalion Chief Jerome Boyd. I join all Angelenos in mourning his passing today, and honoring his 30 years of dedicated service to our city."
Funeral arrangements are pending and will be announced in the coming days, the Fire Department said.
Passing of LAFD Battalion Chief Jerome Boyd #; 10:53AM; LOS ANGELES – The Los Angeles Fire … https://t.co/HAq8h1CBbp

— LAFD (@LAFD) April 28, 2017
Very sad to learn of the on-duty passing of @LAFD Battalion Chief Boyd today. The thoughts & prayers of the #LAPD are w/ his family tonight pic.twitter.com/JZHzM2jown

— Chief Charlie Beck (@LAPDChiefBeck) April 29, 2017