This is an archived article and the information in the article may be outdated. Please look at the time stamp on the story to see when it was last updated.
Construction to replace barriers along a 14-mile stretch of the U.S.-Mexico border began this week just east of Border Field State Park in San Diego, according to U.S. Customs and Border Protection.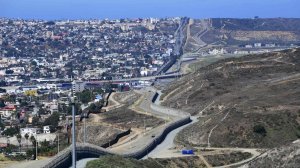 It is the third barrier replacement project to begin this year. Similar projects in Calexico and in Santa Teresa, N.M., are already underway. Funded during the first year of the Trump administration, the San Diego project that got underway Friday will replace fencing that was put up in the 1990s.
Administration officials describe the barrier replacement projects as part of President Trump's promised "border wall."
"Under this president's leadership, we have a renewed commitment to secure our border," said Ronald Vitiello, CBP's acting deputy commissioner. "Not only does it significantly upgrade our existing infrastructure in San Diego, it also marks the third concurrent wall project in the U.S. and reflects CBP's unwavering commitment to secure our borders and protect our nation."
Read the full story on LATimes.com.