This is an archived article and the information in the article may be outdated. Please look at the time stamp on the story to see when it was last updated.
As homeowners in an exclusive Hollywood Hills neighborhood vented their frustration over an Airbnb "camping retreat" listing that they say has disturbed the peace, the property owner behind the short-term rental responded Thursday.
Actress Dita de Leon said she is free to do whatever she wants with her home.
"This is my property. There's a couple of people making up stories of things happening here that are not happening," de Leon told KTLA as she sat in a vehicle, small dog on her lap. "They made up stories that people are somehow having sex in a public place. First thing, it's not public, it's a private place. And second, that's completely false."
The home, in the 6300 block of Quebec Drive, was recently bought by de Leon, according to neighbors. On Thursday, they were speaking out about the home being listed for short-term rental and made available for events and as a filming location.
"If you can't afford to buy a Mansion in the Hills, A Beach Front Property maybe you can rent one for a day…," states a March 21 tweet from de Leon's account.
They are particularly upset over a listing on Airbnb.com for a "Hollywood Hills Camping Retreat." The listing, taken down following news coverage earlier this week, described the rental of a "tent" that could accommodate 10 people for $35 per night.
"There is a house next door with bathroom and shower privileges with extra host fees," the posting stated, according to a Google-cached version of the page.
Two tent appeared to be set up on the property on Thursday.
De Leon said she was simply renting the use of a tent and allowing people to stay on her property "for free as my guests."
"Let's clarify something: I'm not renting out a campsite. I'm renting a tent," she said.
She planned to continue to allow "friends" and guests to enjoy her land and her view, she said.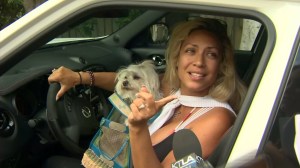 "I don't understand why someone thinks that they have the authority to dictate how someone enjoys their private property," de Leon said.
The four-bedroom, 4,100-square-foot home is for rent for $15,000 per month, according to a posting on real estate website Trulia.com.
On Thursday, when a KTLA news crew was at the home, a handful of neighbors came out to talk. A health officer arrived, saying she was responding to a complaint, took a brief tour and left. It was not clear what agency the woman was with.
Residents said they were unhappy with the situation at the home, and said the removal of the Airbnb posting was only a start to addressing their concerns.
"It's been turned into, fundamentally, a hotel," local resident Dennis Eder said. "We understand there's something on the order of 16 beds there."
Gary Lewis, another neighbor, said he hoped authorities would cite campers for creating a fire hazard by smoking on the tinder-dry land.
"You can't just do anything you want. You can't just set up a camp, or start a hotel or motel in the middle of a residential block," Lewis said.
An email sent out early last month to local residents — and provided to KTLA — asked neighbors to band together to "help end this for the safety of the Hollywood Dell."
The email also described de Leon's business, the Strip Network, which provides "unique hosted tours" for travelers in Las Vegas, according to its website.
More Video: