This is an archived article and the information in the article may be outdated. Please look at the time stamp on the story to see when it was last updated.
The approximately 640,000 students in Los Angeles Unified schools would go back to returning from summer vacation after Labor Day if a proposal introduced Tuesday is approved.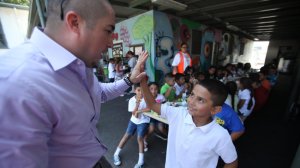 The move, which would reverse LAUSD's switch to an "early start" date in August, is backed by three of the district's seven school board members.
The full board will vote on the three members' resolution, to be first introduced at a 2 p.m. board meeting Tuesday, on Sept. 20.
The resolution would move the start of the school year in the nation's second-largest school district to an unspecified date after Labor Day beginning with next year's school calendar, 2017-18.
With the exception of schools on year-round calendars — which were created in part to address long-gone school overcrowding — most LAUSD campuses began classes after Labor Day until 2012, when "early start" was implemented across the district.
That first year, classes began Aug. 14, three weeks earlier than usual.
This year, school started on Aug. 16.
The district made the change so that high school students would be able to take mid-terms in December, before winter break. There was also hope that the calendar change would improve scores on Advanced Placement tests in spring.
Because school ends in early June under the "early start" calendar, the district also said it wanted to give students more options for summer programs and jobs.
The board members backing the reversal are all former school principals: George J. McKenna III, Richard Vladovic and Scott M. Schmerelson.
In their resolution, they said the need to keep students inside during August's hot weather deprives children of physical activity and increases costs related to air conditioning. The August start also disrupts family vacations, the resolution says.
A report from the district's facilities division showed air-conditioning costs were higher in September in 2013, 2014 and 2015 than in August of the same years, according to the local education news website L.A. School Report. In 2012, when the calendar change was implemented, A/C costs were higher in August than in September.
LAUSD is hardly alone in switching to earlier school-year start, the Los Angeles Times has reported.