This is an archived article and the information in the article may be outdated. Please look at the time stamp on the story to see when it was last updated.
The proponent of a measure calling for California to be divided into three separate states can begin collecting signatures to put the initiative on the November 2018 ballot, California's Secretary of State Alex Padilla said Tuesday.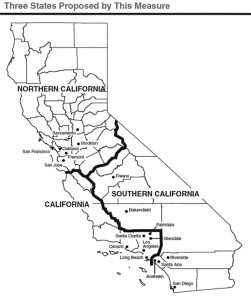 The initiative was proposed by Timothy Draper, the Silicon Valley venture capitalist who backed a failed 2014 plan to carve up California into six states, the Los Angeles Times reported in August.
In Draper's latest plan, the three states would be split into Northern California, California and Southern California.
Northern California would encompass almost the entire upper part of the state, including the Bay Area and Sacramento; California would include the Los Angeles area and extend along the coast through Monterey County; Southern California would include everything else, including Orange County, San Diego and Fresno, a map of the proposal showed.
Southern California would be the most populous of the three states, with 13.9 million residents, according to California's Legislative's Analyst's Office. Northern California would have 13.3 million residents, while California would have 12.3 million.
"The citizens of the whole state would be better served by three smaller state governments while preserving the historical boundaries of the various counties, cities, and towns," Draper wrote in a statement of findings, according to the Times.
However, opponents argue that the plan would be detrimental and disruptive to residents.
"Creating three new governments three new legislatures, three new governors and then having to disrupt what we have as a state all our prison systems, our higher education systems," political analyst Steven Maviglio told Bay Area television station KGO.
He added, "I think diversity is what makes California great and this would actually ruin it."
The measure would require the governor to give formal notice of its approval to Congress by Jan. 1, 2019, and then give federal lawmakers 12 months to act upon the split.
But first, in order for the initiative to qualify for the November 2018 ballot, Draper must collect 365,880 signatures from registered voters within 180 days, according to Padilla.
He has until April 23, 2018, to do that.