This is an archived article and the information in the article may be outdated. Please look at the time stamp on the story to see when it was last updated.
A bill that would raise California's minimum wage has revived a familiar debate between labor groups and business organizations, both of which have been increasingly vocal as lawmakers consider the proposal.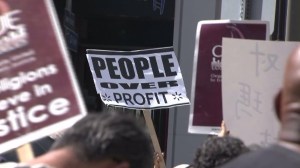 California businesses are currently required to pay their employees at least $8 an hour, which is 75 cents more than the federal minimum wage.
AB 10, which was approved by the Assembly on a 45-27 vote in May, would increase the state's minimum wage by 20 percent over five years.
The state Senate, held by a Democratic supermajority, is expected to take up the legislation next week.
Pro-labor demonstrations were held Thursday in 15 U.S. cities including Los Angeles, where workers and their supporters rallied at the site of a planned Walmart store in downtown.
"Walmart pays its workers poverty wages that hurt the economy and hurt all of us," City Councilman Curren Price, who represents the area where store is to be built, said. "The struggle that Walmart is creating for our communities has to end."
Walmart's associates earn an average of $12.83 an hour, and some managers are paid more than $250,00 annually, a spokesperson for the retail giant told the Associated Press.
On Aug. 29, fast-food workers nationwide walked off the job and picketed in favor of wage hikes to $15 an hour.