This is an archived article and the information in the article may be outdated. Please look at the time stamp on the story to see when it was last updated.
The California bullet train would run near the 14 Freeway and then, just east of Santa Clarita, tunnel under the San Gabriel Mountains and emerge in an industrial area of Pacoima, the state rail authority proposed Wednesday as it laid out its plans for the complicated route from Burbank to Palmdale — one of its most controversial and costly segments.
Compared with other alternatives, the route would be the easiest to build and cause the least harm, rail authority officials said, but it is likely to face intense opposition from communities and institutions along the way.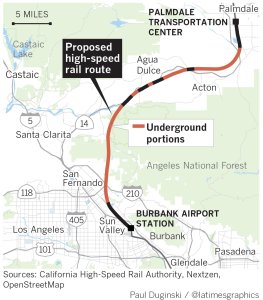 The 38-mile route closely follows the 14 Freeway through the San Gabriel Mountains via five separate tunnels, numerous bridges and various sections that would run at-grade.
If the plan is selected by the California High-Speed Rail Authority board, its myriad impacts on the community and environment would be detailed by next year in extensive environmental documents. But it appears that the route could affect homes, businesses, horse ranches, schools, the Angeles National Forest, an airport and a hospital.
Read the full story on LATimes.com.
Correction: An earlier version of this story incorrectly included San Fernando as one of the cities that this piece of the rail system would pass through. The post has been edited and updated.