This is an archived article and the information in the article may be outdated. Please look at the time stamp on the story to see when it was last updated.
Prosecutors will seek the death penalty against a felon and alleged gang member accused in the deaths of his own cousin and a Whittier police officer.
Michael Christopher Mejia, 27, smiled and appeared to blow a kiss as he walked into the Norwalk courtroom where the decision was read Friday by Los Angeles County Deputy District Attorney Garrett Dameron.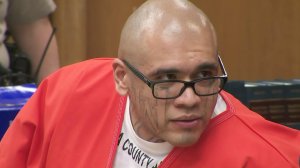 Mejia previously pleaded not guilty to two counts of murder and one count each of attempted murder, carjacking and possession of a firearm by a felon on Aug. 14, 2017.
Friday's decision to seek capital punishment comes nearly a year after Whittier Police Department Officer Keith Boyer and Mejia's cousin Roy Torres lost their lives hours apart on Feb. 20, 2017.
Mejia is accused of fatally shooting his 47-year-old cousin in East Los Angeles early that morning. He then allegedly stole Torres' car and, about three hours later, crashed it into two other vehicles in Whittier.
When police responded to the crash, Mejia allegedly exited the car with a handgun and proceeded to shoot and kill 53-year-old Boyer and wound his partner, Patrick Hazell.
Boyer was a 27-year veteran of the Whittier Police Department, and the chief there described him as a "hero."
Mejia was on probation at the time of the shooting and had been released from Pelican Bay State Prison less than a year before.
Days before the incident, he was released from a 10-day jail sentence for violating the terms of his release, one of five such jail stays for the same violation, the Los Angeles Times reported.
He was sentenced to two years for grand theft auto in 2014 and four years for second-degree robbery in 2010.
At the time of his most recent arrest, authorities described him as a "known gang member," and prosecutors have filed a gang allegation against him. His 2010 conviction included a sentencing enhancement for gang involvement.
The last entry Boyer scribbled in his police notebook while responding to the crash was "Michael Mejia, 1191, Winter Gardens," a reference to Mejia's gang, according to testimony presented last June during a preliminary hearing in the case, according to the Whittier Daily News.
Mejia is scheduled to return to court for pre-trial hearing on April 6, and prosecutors indicated a trial could begin in July.