This is an archived article and the information in the article may be outdated. Please look at the time stamp on the story to see when it was last updated.
Recent prostitution stings at massage parlors and spas in Torrance have resulted in multiple arrests, authorities said Sunday.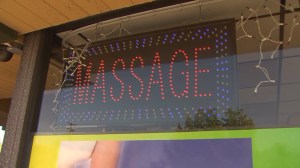 The police operations began May 1 at Foot Expertz, located at 2150 Redondo Beach Blvd., one of 60 licensed massage parlors and spas in the city, said Sgt. Robert Watt of the Torrance Police Department.
A 41-year-old South Gate woman and a 65-year-old Gardena man were subsequently arrested: Moraima Cruz-Gonzalez was charged with engaging in the act of prostitution, and Kyungsoo Na was charged with felony pimping, police said.
After an undercover operation Thursday at IYU Healing Center, 24211 Hawthorne Blvd., 58-year-old Ewon Ford of Yorba Linda and 57-year-old Meishan Jin of Redondo Beach were taken into custody without incident, according to police. Torrance detectives were able to link the two women with engaging in the act of prostitution, Watt said.
Also on Thursday, a female employee at Shan Ya Massage, 1730 Sepuleveda Blvd., was arrested and charged with engaging in the act of prostitution, according to police. Forty-nine-year-old Shu Wang, of San Gabriel, was taken into custody by undercover officers.
The city has been unable to close such so-called nuisance businesses due to a California law that places property enforcement under the jurisdiction of state officials, who, some police officials say, are unwilling to act.
"Because of the 2008 Senate Bill 731, these businesses are being protected when there's illegal activity going on in these establishments," Watt said.
While the legislation was passed "with good intentions" by lawmakers, Watt said, they did so not knowing that illegal establishments would "hide behind the law and use it as a shield to prevent local governments from shutting down businesses engaging in prostitution and human trafficking."