This is an archived article and the information in the article may be outdated. Please look at the time stamp on the story to see when it was last updated.
Hundreds of people taking part in a nationwide protest against police brutality staged a die-in Saturday in the same busy Hollywood intersection where a man allegedly armed with a knife was shot and killed by Los Angeles police officers the previous night.
As they marched through the streets of Hollywood during the afternoon hours, demonstrators chanted "Hands up, don't shoot" and "I can't breathe," refrains heard around the nation in protest following the fatal shooting of Michael Brown in Ferguson, Missouri and the choke hold death of Eric Garner in New York. Both men died at the hands of police.
Protesters also staged a "die-in" at the intersection of Hollywood Boulevard and North Highland Avenue, where less than 24 hours earlier, police fatally shot a man after law enforcement officials said he did not comply with officer orders.
The demonstrators, dressed mostly in black, blocked traffic in the area and essentially shut the busy intersection down for a time.
It was a much different scene than the one outside the popular Hollywood and Highland entertainment center on Friday night, when about 20 protesters showed up in the area while the scene of the fatal police shooting was still active.
At first, Sgt. Ward with the Los Angeles Police Department said the protests were not related to Michael Brown, referring to nationwide protests taking place since a Ferguson, Missouri grand jury decided nearly two weeks ago not to charge a white police officer who shot and killed the unarmed black teen.
Ward stated the protesters Friday night had shouted, "Hands up." and "I can't breathe."
"Hands up" was a popular chant repeated by Brown's supporters, while"I can't breathe" was a phrase shouted by protesters since New York grand jury decided on Wednesday not to indict white NYPD officer who killed Eric Garner, a black man, using a prohibited choke hold maneuver.
The demonstration —  dubbed "Blackout Hollywood" — had been planned even before Friday night's shooting occurred, and protesters had been encouraged to meet at noon near Argyle Avenue and Hollywood Boulevard and march to the TCL Chinese Theater (map), passing the location where the man was killed.
Actor Tyrese Gibson, known for his roles in the "Fast and Furious" and "Transformers" franchises, posted a video to his Facebook page Saturday encouraging people to join him and his daughter at the march. In about three hours, nearly 10,000 people "liked" the post.
Protest promoters said more African-American celebrities would be at the march. Participants were encouraged to wear black and tweet with the hashtag #BlackoutHollywood.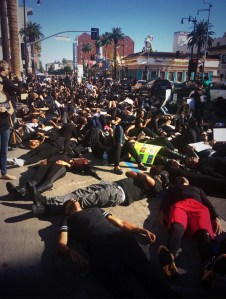 The posts were largely peaceful, and as of early Saturday evening, no arrests had been made.
Meanwhile, an investigation into Friday's incident was ongoing. Investigators were checking local hospitals for stabbing victims since the man who was shot allegedly carried a knife, but  none had been found as of Saturday morning, Ward said.
KTLA's Mark Mester and Tracy Bloom contributed to this report. 
More Video: