This is an archived article and the information in the article may be outdated. Please look at the time stamp on the story to see when it was last updated.
Dozens of protesters walked onto the northbound 5 Freeway in San Diego on Wednesday morning and temporarily blocked traffic, in an apparent response to a Ferguson, Missouri, grand jury decision not to indict Officer Darren Wilson for fatally shooting teenager Michael Brown.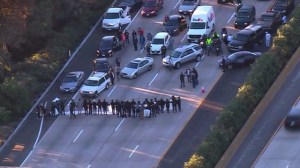 The group of demonstrators, holding signs that read "KNOW JUSTICE KNOW PEACE" and "BLACK LIVES MATTER," formed a line across all four northbound lanes near Nobel Drive (map) shortly before 7 a.m., aerial video showed.
With their morning commute brought to a standstill, some drivers were seen exiting their vehicles and confronting the activists.
About a dozen California Highway Patrol and San Diego Police Department vehicles entered the freeway from Nobel Drive exit and pulled over on the right shoulder.
"We can do this the easy way or the hard way," one officer told protesters, according to the CHP.
The group of demonstrators dispersed without incident about 7:20 a.m. and walked onto nearby streets, just south of the UC San Diego campus, where they continued to march and chant.
There were no immediate reports of arrests.