This is an archived article and the information in the article may be outdated. Please look at the time stamp on the story to see when it was last updated.
Hundreds gathered at Leimert Plaza Park in South Los Angeles on Thursday afternoon, part of a nationwide series of protests over the death of Michael Brown, an unarmed 18-year-old who was fatally shot by police in Ferguson, Missouri, on Saturday.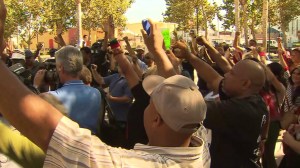 The event in Los Angeles was set for 4 p.m., and other events were taking place simultaneously in New York, Chicago, Detroit, Washington, Boston and New Orleans, according to information passed around on social media.
"We refuse to live this way," chanted protesters in Leimert Park.
They held up their hands in a moment of silence for Brown.
The #DayofRage protests appeared to have been planned by the hacktivist group Anonymous, which released a YouTube video "press release" about the planned events.
Tear gas and rubber bullets were fired on protestors in Ferguson Wednesday evening in response, police said, to rocks and bricks thrown as well as gunfire.
"Let us all stand in solidarity with Mike Brown, the people of Ferguson and every single person that was brutally murdered by so-called authority," the video stated. "We are calling for a national day of rage."
A few hundred Los Angelenos of all colors showed up at Leimert Park in support of Michael Brown. pic.twitter.com/Oc663UYjkw

— Lindy Hall (@LindyLouLoo) August 14, 2014
http://instagram.com/p/rsqCY5nahq/