This is an archived article and the information in the article may be outdated. Please look at the time stamp on the story to see when it was last updated.
Dozens of protesters rallied in downtown Los Angeles on Saturday evening to denounce the racially-charged violence in Charlottesville, Va.
More than a hundred demonstrators marched in front of Los Angeles Police Department headquarters, chanting, "No justice, no peace," and waving signs that read "Solidarity with Charlottesville," "White Silence = Violence" and "Stop White Terrorists."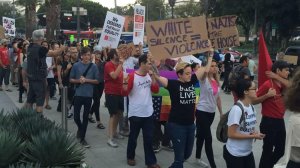 The peaceful demonstration came hours after three people were killed and dozens injured in Charlottesville when a rally staged by white nationalists turned violent. The "Unite the Right" rally was a battle over the city's ordered removal of a statue of Confederate Gen. Robert E. Lee.
Before the rally could even begin, neo-Nazis, white nationalists and other far-right figures began brawling with large numbers of anti-racism protesters in the streets of the college town.
See the full story on LATimes.com.