This is an archived article and the information in the article may be outdated. Please look at the time stamp on the story to see when it was last updated.
A group of demonstrators protesting the Ferguson, Missouri grand jury's decision to not charge Officer Darren Wilson in the shooting death of Michael Brown swarmed a much-traveled stretch of the 101 Freeway in downtown Los Angeles Tuesday night and stopped traffic, aerial video showed.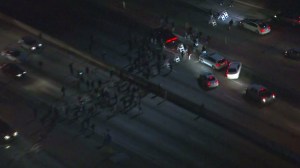 After running up a ramp at Grand Avenue and into the roadway shortly after 9 p.m., the protestors blocked all lanes by placing barricades that they had picked up on nearby side streets, according to the video.
The protestors had walked to the 101 Freeway from Los Angeles Police Department headquarters in downtown, where hundreds had gathered earlier in the evening.
California Highway Patrol officers arrived on the scene shortly after the marchers put up the barricades, took them down and pulled the demonstrators to the side of the road, the video showed.
Within ten minutes, most of the pedestrians had been removed from the freeway. The CHP tweeted that arrests were made, but it was not immediately clear how many people were taken into protesting.
It was also not known if any injuries were reported.
All lanes on the 101 were reopened around 9:45 p.m.
The incident occurred less than 24 hours after the 110 Freeway through downtown L.A. was temporarily closed after protesters walked up an embankment near Pico Boulevard and into the road.