This is an archived article and the information in the article may be outdated. Please look at the time stamp on the story to see when it was last updated.
Continuing unrest over gasoline price hikes in Mexico flared up at the Tijuana border crossing Saturday night as a large protest prompted U.S. authorities to block access into Mexico from San Ysidro for nearly four hours.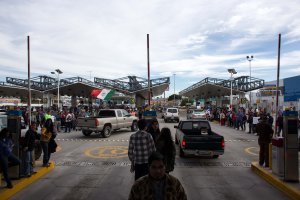 Southbound Interstates 5 and 805 began to reopen to motorists wanting to cross the border about 9:15 p.m., according to the California Highway Patrol.
The demonstration at Tijuana's El Chaparral port of entry was among several held throughout Mexico Saturday — including a protest that turned violent outside a Rosarito Beach gasoline distribution center.
U.S. Customs and Border Protection officials and the California Highway Patrol began diverting southbound I-5 and I-805 traffic about 5:30 p.m. "to support the government of Mexico's inbound (vehicle inspection) operation," said Customs spokesman Ralph DeSio.
Click here to read the full story on LATimes.com.