This is an archived article and the information in the article may be outdated. Please look at the time stamp on the story to see when it was last updated.
Demonstrators gathered Friday to demand a change in leadership at the San Bernardino Animal Shelter, where they say animal care has suffered since a new manager took over three months ago.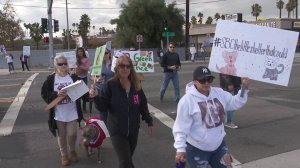 They are circulating a petition demanding new management. Kacey Montoya reports for the KTLA 5 News at 10 on Nov. 30, 2018.