This is an archived article and the information in the article may be outdated. Please look at the time stamp on the story to see when it was last updated.
Protests are happening around the Los Angeles area — with a Beverly Hills demonstration attracting hundreds — and the Los Angeles Police Department is taking extra precautions as President Donald Trump arrives on his first visit to California as commander in chief Tuesday.
Not long after Trump touched down in Marine Corps Air Station Miramar just before noon, swarms of demonstrators rallying against his administration and his supporters were already out in full force — divided by a row of uniformed officers holding onto batons.
The scene at Enrico Fermi and Via De La Armistad. Protesters and counter protesters separated by police. pic.twitter.com/cNv6z9S49D

— Marcus Yam 火 (@yamphoto) March 13, 2018
As Trump made his way from San Diego up to the Los Angeles area, later in the day, a similar scene of uproar started to unfold shortly after his arrival to Los Angeles International Airport just after 3:30 p.m.
Demonstrations were planned in multiple areas of L.A. — largely focusing on his administration's hard-line stance on immigration.
In Beverly Hills, a protest intended to "resist" Trump was planned for 5 p.m. in Beverly Gardens Park. It was being hosted by a group called "ICE Out of LA," according to its Facebook page.
"Together, we'll resist his presence in our backyard and continue to organize against hate," the page reads.
By 6 p.m., around 300 to 400 people had gathered in the park, many of them bundled in coats and jackets as they braved colder than usual weather to hold up signs and chant. A giant inflatable Trump figure could be seen standing amid the crowds, surrounded by colorful signs often advocating immigrants' rights or criticizing the president's other controversial policies.
Este @realDonaldTrump estaba en la manifestación el día que tomó posesión y hoy está en Beverly Hills para recibirlo #TrumpProtest pic.twitter.com/lYWlXvTq3u

— Pablo Ximénez de Sandoval (@pximenez) March 14, 2018
Hundreds lining up in the rain on Santa Monica Blvd in Beverly Hills right now to protest Trump's visit to this rich enclave. Getting a California welcome. pic.twitter.com/STqiywxibM

— Walter Dominguez (@WaltDLosAngeles) March 14, 2018
Later in the day, Trump is expected to appear at a fundraiser being hosted at the Beverly Park mansion of Tampa Bay Buccaneers Co-Chairman Edward Glazer, according to the Los Angeles Times. Organizers are hoping to raise $5 million.
The fundraising event is just about four miles north of the protests happening in Beverly Hills.
Since Beverly Park is a gated community, protestors are not expected to be able to get close to Glazer's home when Trump is there, the Times reported. Donors attending the fundraising dinner can give up to $250,000 each.
This is the entrance to the gated community where President Trump will headline a fundraiser tonight. pic.twitter.com/lNtRg7bLT4

— Seema (@LATSeema) March 13, 2018
Another protest, called "Unwelcome Rally at Santa Monica Airport Park," was scheduled to take place at that airport at about 2 p.m., according to the L.A. Times.
Protesters there waited along a strip of roadway where Trump's motorcade was expected to pass in the late afternoon. Just after 4 p.m., anti-Trump demonstrators were still standing there, waiting while armed with signs and strong words for the president.
"I think he's broken laws and he should be impeached," said Dianne Corriere, one of the demonstrators, as she held up a protest sign. "I want to get him out of office as soon as possible."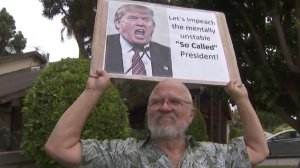 Another protestor waiting for the motorcade to drive by, Denise McCann, said she was there "just to let him know we disagree with everything he stands for."
"We don't want him as our president," she said. "We don't want him in Los Angeles."
Some of those standing in the crowds of protestors in Beverly Hills said immigration policy has been one of the biggest points of conflict between the blue state and its president.
"He knows how the people here in California feel about him," said Kerry Copsin, one of the demonstrators. "We're big defenders of DACA, the undocumented, the environment."
"We have seen ICE raids in this state," said Andrew Cohen, a representative for local labor union Unite Here Local 11, which represents service workers in L.A.
"We've felt the pressure from the Trump deportation machine — and that's not what we want this city to be about," Cohen said.
The president's visit comes in the wake of a mass immigration sweep further north in the state followed by a lawsuit his administration filed against California arguing its so-called 'sanctuary state' laws were below the authority of the federal government. Upon his arrival Tuesday, he viewed prototypes for the massive $18 billion border wall project.
"The place is totally out of control," Trump said shortly after arriving to the Golden State. "You have sanctuary cities where you have criminals living in the sanctuary cities."
Leading lawmakers in the state — which is home to over 2 million undocumented immigrants by Pew Research estimates — have decried the immigration crackdown. California Senate Leader Kevin de Leόn has described it to CNN as "inhumane" and "xenophobic."
The day before Trump's visit, de Leόn joined in protests rallying against the president, again in Beverly Hills.
On the eve of Trump's visit to California, we gathered civil rights and labor leaders to protest the President's politics of discrimination and bigotry. #CAValues pic.twitter.com/rGrKGCE3Ur

— Kevin de Leόn (@kdeleon) March 13, 2018
Past anti-Trump protests in Los Angeles have attracted thousands and the LAPD has announced plans to "be heavily deployed throughout the city." The agency also tweeted its plans to anticipate protests, saying it will be "available to accommodate any residents who may feel a desire to exercise their First Amendment rights."
A map released by LAPD on Twitter shows the various streets in downtown Los Angeles that will be closed for the president's visit.
#LAPD: The following streets will be closed until 1:00p.m on Wednesday, March 14, 2018 for the Presidential visit:

Figueroa St. between 8th St. and 6th St,
Wilshire Blvd. between Flower St. and Beaudry Ave, and
7th St. between Flower St and Bixel St. pic.twitter.com/iXfvHYB7cM

— LAPD HQ (@LAPDHQ) March 13, 2018
While warning of the street closures and expected traffic congestions, the LAPD also stated it could not give too much information to the public "out of an abundance of caution" and for "security reasons."
The areas of downtown L.A. being shut down are located near the the Wilshire Grand Center, which previously notified tenants of a "VIP/high security visitor" who would be staying in the building's InterContinental Los Angeles Downtown Hotel and was expected to "have a significant impact in and around the building," the L.A. Times reported.