This is an archived article and the information in the article may be outdated. Please look at the time stamp on the story to see when it was last updated.
A foster family in  Santa Clarita is heartbroken after the 6-year-old girl they had been caring for was removed from their home on Monday.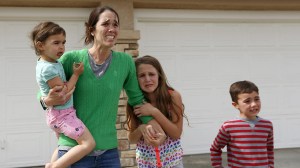 Lexi lived with the family for four years, but was being sent to live with extended family in Utah under the Indian Child Welfare Act, a 1978 federal law designed to protect Native American children.
Clutched in the arms of her foster dad, Rusty Page, a dramatic scene unfolded around Lexi outside the family home as foster mom Summer and her children screamed in the background on Monday.
Los Angeles County Department of Children and Family Services agents, acting on a court order, removed Lexi from the only family she's known for the past four years.
"She's the happiest child you'll ever meet today," said Rusty. "Tomorrow … No. She won student of the month last month at school for how caring she is for people, and people don't return that favor to her."
The case involves a tribal custody battle that hinged on interpretation the Indian Child Welfare Act.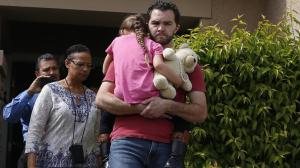 Lexi is 1.5 percent Choctaw,according to the family. With her biological parents suffering from drug addiction and involved in crime, she had bounced in and out of foster homes since birth before ending up with the Pages.
After her parents relinquished custody years ago, her extended family in Utah began fighting to take her in, and the Pages' attempts to adopt Lexi over the past several years have been unsuccessful.
"The county of L.A. always talks about how important it is to maintain consistency and permanence for children, and yet they violate that today. And it's gut-wrenching," said Rusty.
The Pages tried in court to prevent Lexi from being taken, and asked for prayers from hundreds of heartbroken members of their church community who kept vigil outside the home.
An appellate court stay preventing Lexi's removal was lifted Friday when the 2nd District Court of Appeal denied a petition from the family, a court-appointed law firm representing foster youth told the Los Angeles Times. The case is confidential.
Lexi has had regular visits with her relatives in Utah, Leslie Starr Heimov, executive director of the Children's Law Center of California, told the Times. She will be living with one of her sisters in Utah, Heimov said.
"There are two families that love her," Heimov told the Times. "The court has made a decision. We need to follow the law, and we need to enforce the court orders."
On Monday, the Oklahoma-based Choctaw Nation has issued the following statement about the child's case:
The Choctaw Nation desires the best for this Choctaw child. The tribe's values of faith, family and culture are what makes our tribal identity so important to us. Therefore we will continue to work to maintain these values and work toward the long-term best interest of this child.
The Page family issued a statement from their home after the little girl was taken away, which read in part:
Our family is so incredibly devastated. Our hearts are broken and we are trying to make sense of everything that has happened with our three other children who witnessed their sister Lexi forcefully ripped away from our family by strangers.
But nobody could possibly be more devastated than our 6-year-old daughter who found herself restrained in a car and driven away to go and live in a foreign place hundreds of miles from her family, friends, teachers, home and life.
Let me speak directly to the people who took our daughter and who have her now. Please search deep into your heart and soul and do what's best for Lexi. Do the right thing and bring Lexi back home. Do not keep her one more minute. Do not force her to spend one more night away from us and her siblings. Look her in the eyes and just ask her what she wants. She will tell you she wants to go home. I'm begging every American within the sound of my voice to help us bring Lexi back home.