This is an archived article and the information in the article may be outdated. Please look at the time stamp on the story to see when it was last updated.
MENIFEE, Calif. (KTLA) — A public memorial service was scheduled Thursday for Terry Smith, the 11-year-old Menifee boy whose body was discovered in a shallow grave after a days-long search effort.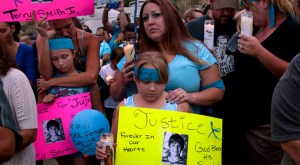 The boy's remains were found buried near the family's home four days after his mother reported him missing.
On Wednesday, Smith's father held a new conference to thank the volunteers who helped search for his son.
Smith, who lives in West Virginia, has extended his visit to Menifee.
He was waiting for authorities to release the boy's body for cremation.
"Maybe by the middle of next week his body will be released, that way I'll be able to take at least half of him home," Terry Smith Sr. said.
The boy's 16-year-old half brother was facing murder charges in the case. The boy is not being named by KTLA because he is a minor and has been charged as such.
But Smith said he did not believe that the teenager acted alone.
"I don't think that Terry Jr. ended up under that tree just by (his half brother)," Smith said.
The memorial service was set to begin at 6:30 p.m. at Lamb's Fellowship Church, 21901 Railroad Canyon Road, in Lake Elsinore.