This is an archived article and the information in the article may be outdated. Please look at the time stamp on the story to see when it was last updated.
The California Highway Patrol stated Friday that an investigation into cellphone video that captured a woman being repeatedly struck by an officer was underway, and she was not believed to be injured.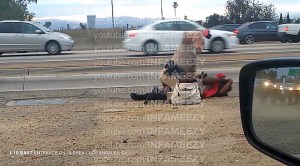 Video shot by David Diaz on Tuesday showed a woman walking along the 10 Freeway when she was approached by the California Highway Patrol officer who proceeded to grab her, knock her to the ground and repeatedly punch her.
"The tape only shows a small part of what transpired, there were events that led up to this. Until all that's collected and put into perspective we aren't going to be able to make a determination," Assistant Chief with CHP Southern Division  Chris O'Quinn said at a Friday press conference.
The CHP would not comment on the incident during its investigation, which O'Quinn said would hopefully conclude in the coming weeks.
"What caused the officer to respond in the way he has has not been thoroughly evaluated so I don't want to provide you with an opinion," O'Quinn said.
The officer was responding to a report of a person on the freeway when the woman walked down an on-ramp then back onto the freeway and across lanes during heavy traffic, O'Quinn said.
"We don't know if there was a vehicle anywhere in the area, as far as we know she was wandering,"  he said.
It was unclear if words were exchanged and what took place before the video was shot.
A man who appeared to be helping the officer detain the woman toward the end of the video was part of law enforcement and off-duty, O'Quinn said.
The woman was taken in for a 72-hour mental evaluation, but O'Quinn was unsure of its outcome and if she remained in custody as of Friday afternoon.
An initial report indicated that she was uninjured and that the responding officer did not notice any injuries, O'Quinn said.
Before the start of the press conference, leaders of a public policy forum demanded the justice department take over the investigation.
"When I saw this video this morning, I was appalled and I could not believe what I was seeing," Vice President of Los Angeles Urban Policy Roundtable Pedro Baez said Friday. "The CHP had always had a history of treating everyone fairly and equally, but instead we saw something that was just repulsive, reprehensible and just totally out of character for them."
The roundtable was described as a nonpartisan group dedicated to education and community civic engagement, according to its website.
The officer used excessive force because the woman did not appear to be armed or resisting arrest, according to LAUPR officials who also demanded the officer be suspended pending a fast-track federal probe by the justice department.
"What we saw with that video was a civil-rights abuse — a civil-rights violation," LAUPR president and Founder Earl Ofari Hutchinson said. "We have to send a message: excessive force, abuse of authority is not going to be tolerated."
O'Quinn said the officers actions may have been necessary considering the incident's location.
"The most dangerous thing that we face is traffic. If you look at all the studies about how officers are harmed in the line of duty, you'll find that traffic is the No. 1 cause of injury to officers," he said. "We know it's out there and we know it's coming, but a citizen who's up on the freeway who is not accustomed to being out there and exposed to the speed and rapid change of conditions is seriously in jeopardy and can be seriously harmed and potentially killed."