This is an archived article and the information in the article may be outdated. Please look at the time stamp on the story to see when it was last updated.
Update, Tuesday, March 14:
Riverside police have identified a suspect, 31-year-old Chiengkham Vilaysane, in the search for a woman who abandoned a 2-year-old girl at a grocery store. An updated story is here.
Original story, Monday, March 13:
Police are looking for a mother who abandoned her 2-year-old daughter at a Food 4 Less in Riverside over the weekend, officials reported Monday.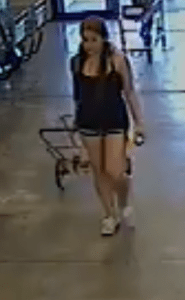 Officers responded to the Food 4 Less, located at 4250 Van Buren Blvd., about 5:55 p.m. Sunday in response to a call about a child being found at the grocery store alone, Riverside police said in a news release.
Police said the mother can be seen on surveillance video walking into the store with the toddler by her side. While inside the store, the 2-year-old girl wandered off. Police say the mother never tried to find the toddler and instead continued to shop.
"When the mother was shopping, a good Samaritan brought the child to her and the mother responded, 'Oh, just leave her,'" Officer Ryan Railsback said in a released statement. "The mother deserted the toddler after she paid for the groceries."
Railsback said police believe the mother intentionally left the toddler at the store.
The 2-year-old girl was able to identify the woman as her "mommy," when she was shown a surveillance image, police said.
As of Monday evening, police said the toddler had still not been reported as missing.
The toddler was placed in the custody of Child Protective Services, police said.
The mother is described as about 20 to 30 years old with dark hair. She was last seen wearing a black or dark-colored tank-top shirt and denim shorts. Police said she has a distinctive tattoo on her right arm.
Anyone who recognizes the woman is urged to contact Detective Paul Miranda at 951-353-7945 or pmiranda@riversideca.gov.