This is an archived article and the information in the article may be outdated. Please look at the time stamp on the story to see when it was last updated.
Authorities released surveillance video Wednesday in hope of helping find an assailant wanted for a brutal attack on a gas station worker that took place earlier this month in the Carson area.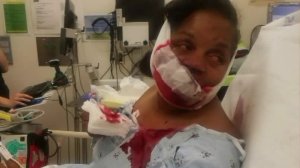 Darlecia D'Andrade, 53 and a mother of six, was at work just before 6 a.m. June 16 when a man entered a gas station store in the 900 block of West Sepulveda Boulevard. The man made a small purchase then asked if he could use the restroom, the Los Angeles County Sheriff's Department said in a statement.
He went into the restroom, then came out and asked the clerk to fix the toilet. When D'Andrade went into the restroom, the man followed her and suddenly began to attack her.
She was punched and slashed across her face and abdomen with an unknown object, officials said.
D'Andrade told KTLA that she did not immediately realize she was being slashed.
"I started saying 'Why, why, why are you hitting me?'" she said. "Blood was just gushing like crazy, and I was just so in shock."
In the video, the man can be seen running out of the store a few seconds after following the woman into the restroom.
"The blood was all over the store," D'Andrade said.
She managed to call her daughter and authorities, and was taken to a hospital, where she was treated and released.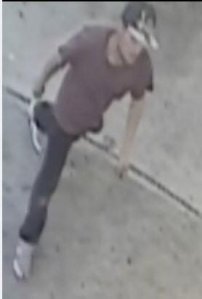 Detectives said the man got into a four-door sedan with a sunroof and drove south on Vermont Avenue. The car was described as having vertical slats on the front grill and a sticker or chipped paint on the driver's side doorframe.
The attacker was described as a Hispanic man, approximately 20 years old, with dark hair, standing about 5 feet 11 inches tall and weighing between 160 and 170 pounds. He was wearing a black and green hat with the phrase "I (marijuana leaf) weed," a red T-shirt and black pants.
D' Andrade has not been able to return to work since she was attacked and she doesn't plan on doing so. She said she is fearful of going out in public.
Authorities said she had never seen the suspect before.
The motive for the attack, which took place in the unincorporated West Carson area, remains unknown.