This is an archived article and the information in the article may be outdated. Please look at the time stamp on the story to see when it was last updated.
A pug that was seen being tossed in a viral video that prompted an animal abuse investigation has been located and returned to his owners in Fairfield, according to police and a report.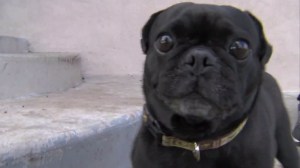 The small dog, named Benny, was examined by a local veterinarian and deemed to be uninjured and in good condition, a Facebook post from the Fairfield Police Department stated on New Year's Day.
He was released back to his owners, including the woman who was captured on video holding Benny by the neck before violently throwing him to the ground, KTLA sister station KTXL. The woman, identified by authorities as Brandi Chin, then took the dog, prompting the search for her and the dog.
In an off-camera interview with the Sacramento-area TV station, Chin apologized for the incident, saying she felt terrible about her actions, which she stated occurred in the heat of the moment.
Chin allowed a KTXL crew to film footage of the dog playing in her boyfriend's front yard. While he appeared to be OK, the woman admitted to the station that the caught-on-video incident gave reason for people to be concerned.
At the time, Chin explained, she was angry and in the middle of a heated argument with a friend; she had simply meant to release the dog, but did not intend for it to be as hard as the footage showed, she told the station.
The woman refused to speak on-camera due to death threats she has received since the video was posted on social media, according to KTXL.
Chin's boyfriend, who did not give his name to the station, said they were properly caring for the pug.
"We took him down to the clinic down there in Cordelia, and he did a full check-up on the dog, the doctor did, and everything. He's OK — X-ray, blood work, the whole nine yards," he told KTXL.
Fairfield police began investigating the case of suspected animal cruelty after the surveillance footage went viral on Facebook.
Authorities have completed the investigation and have forwarded the case to the Solano County District Attorney's Office to determine whether animal abuse charges will be filed against Chin, according to the Police Department's Facebook post.