This is an archived article and the information in the article may be outdated. Please look at the time stamp on the story to see when it was last updated.
A 28-year-old man was charged with two counts of felony animal cruelty after video surfaced of him allegedly dragging a puppy on a leash down a street in Los Angeles, the District Attorney's Office announced Wednesday.
Video shows Dossey James, 28, repeatedly dragging a puppy up and down a street allegedly because the dog refused to walk, according to a new release from the Los Angeles Police Department.
James continued to drag the dog despite evidence the puppy was injured and leaving a blood trail on the sidewalk, the release stated.
The puppy received numerous cuts and scrapes on his legs and stomach area which required required surgery, police said. He was expected to make a full recovery.
James was being held on $145,000 bail.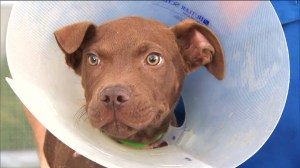 A large bail amount was sought after investigators uncovered a similar incident of animal abuse alleged against James, authorities said.