This is an archived article and the information in the article may be outdated. Please look at the time stamp on the story to see when it was last updated.
A man apparently "full of anger" stabbed four people to death and wounded two others in a robbery rampage that started in Garden Grove and stretched into Santa Ana before he was
arrested
Wednesday night, the Garden Grove Police Department said.
The suspect was identified Thursday as 33-year-old Zachary Castaneda, a "documented gang member," police told KTLA. Authorities were still trying to contact the families of the victims and piece together a motive for the attacks. "It's just pure hate that this guy did this," Garden Grove police Lt. Carl Whitney said on the night of the killings. "We know that this guy was full of anger and he harmed a lot of people tonight." Three of the victims killed were identified Thursday afternoon. Officials say they were 39-year-old Pascual Rioja Lorenzo of Garden Grove, a customer who was fatally stabbed during a robbery at a Subway in Santa Ana, and Robert Parker, a 58-year-old Orange resident. Parker was working as a guard at a 7-Eleven in Santa Ana when the assailant disarmed and killed him. The other two slain, who also appeared to have been targeted at random in a Garden Grove apartment robbery, were 62-year-old Helmuth Hauprich and an unidentified 63-year-old man, according to Garden Grove police news release. Those wounded were a 54-year-old woman and a 44-year-old man. "Four people needlessly lost their lives tonight from this savage suspect," Whitney told reporters Wednesday. The rampage started at about 4 p.m. with three robberies in Garden Grove. The first was reported at a Garden Grove apartment complex on 12162 Jentges Ave., followed by a robbery about 20 minutes later at a bakery on 13040 Chapman Ave., according to police. The victim told police that the suspect was armed with a gun and that he had fled the scene in a silver Mercedes. At about 5 p.m., an hour after the reports of the crime rampage started, the first stabbings were reported at the same apartment where a victim called about a burglary on Jentges Avenue. Responding officers found two men that had been stabbed numerous times. One was pronounced dead at the scene and the other later died at a hospital. Whitney said investigators believe the victims, who were the same ones that previously reported the burglary, had confronted the suspect and were stabbed as a result. Castaneda lived at a Garden Grove home adjacent to the victims' home, Whitney said. A family member identified one of the men killed in the apartment as his father, 62-year-old Helmuth Hauprich, who was born in Romania,  the Associated Press reported. The son said his father had called him earlier in the day and told him that his passport, green card, a sword collection and a dining table had been stolen from the apartment, according to AP. The lieutenant confirmed that a sword collection and a table were stolen from the roommates' home, and that the table was found at Castaneda's home. A robbery was then reported at the Cash & More business on 12845 Chapman Ave. followed by another robbery at 6:06 p.m. at Best One Insurance on 12843 Harbor Blvd., where a 54-year-old female employee was down on the ground and "profusely" bleeding. She had been "savagely" stabbed multiple times, Whitney said. She was in serious but stable condition Thursday. Just three minutes later, about a half-mile away, a 44-year-old man who was pumping gas was stabbed in the back and his nose was nearly severed off.  Police said the suspect, who was armed with two large machete-type knives, then continued to pump gas into his Mercedes before he drove away. The victim was last reported in stable condition, but had to undergo surgery to reattach his nose, authorities said. The suspect then drove to Santa Ana. At 6:16 p.m., Lorenzo was inside Subway at 3835 W. 1st St. in Santa Ana when he was attacked, police said. The stabbing victim, initially described as a Subway employee, later died from his injuries.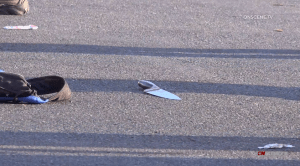 A few minutes later at about 6:25 p.m., undercover Garden Grove police found the silver Mercedes outside a 7-Eleven across the street from the Subway restaurant. That's when detectives saw the suspect come out of the 7-Eleven store with a large knife and a handgun. They ordered him to drop his weapons and he complied, authorities said. Santa Ana police officers responded to help with the arrest. While officers were handcuffing him, customers inside the store ran out and told the detectives that the suspect had just stabbed a security guard. Police said the attacker had disarmed Parker, took his handgun, then stabbed him multiple times. The victim later died at a hospital. "Had the suspect continued his rampage, he could have injured or killed many other innocent people," said Garden Grove Chief of Police Tom DaRé. Lt. Whitney said the suspect continued to violently struggle with officers after his arrest, at one point slipping out of his handcuffs. "I've worked here in Garden Grove for 30 years," Whitney said. "This is the first time I've ever seen something like this where we've had a suspect kill four people in one day and attack other people that are just innocent victims. It's pure evil when this happens. … It's one of these things you see one time in a career." Video from the scene showed officers handcuffing a man in a black hoodie and a large tattoo on his stomach. A large knife could be seen on the ground where officers and patrol cars crowded and paramedics rushed into a nearby business. Detectives as of Thursday morning had not officially determined the motive behind the robberies or homicides. The case is under investigation by both the Santa Ana and Garden Grove police departments. Police said there was ample security footage showing the attacker during the rampage and officers were working with multiple witnesses to confirm the identity Thursday. "He never told us why he did this," Whitney said. Authorities said the suspect had a
lengthy criminal history
and has been arrested several times before. In one case, he was convicted for possession of meth for the purpose of sale while armed with an assault rifle, DaRé said. At a news conference Thursday, flanked by mugshots of the smiling suspect and a board displaying the long timeline of attacks, officials thanked law enforcement officers for their quick response, all saying that there would have been more victims if he had not been arrested. Chief DaRé described Castaneda as a "violent individual" who should have never been considered for early release. "California law enforcement agencies have been crippled by Assembly Bill 109 and offenders are not being held accountable.Our community becomes vulnerable when these criminals are released back into society and are able to commit further acts of violence," DaRé said. Castaneda's bail was set at $1 million, according to county inmate records. His arraignment is scheduled for Friday morning. Anyone with information was asked to contact the Garden Grove Police Department and speak with detectives.