This is an archived article and the information in the article may be outdated. Please look at the time stamp on the story to see when it was last updated.
A man suspected of shooting at an officer in Huntington Beach before leading authorities on a high-speed pursuit was killed in a fiery crash in the Cajon Pass early Friday morning.
The incident began when officers responded to a domestic violence call in the area of Yorktown Avenue and Bushard Street in Huntington Beach at about 12:15 a.m., said Huntington Beach Police Department Officer Jennifer Marlatt.
Officers attempted to contact a man involved in the incident when he got into a vehicle and drove away, Marlatt said.
At one point the man made a U-turn and then fired several rounds at officers who were following him, Marlatt said.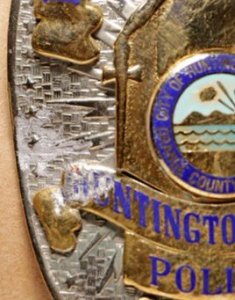 One of the officers was struck in what was described by Marlatt as "one shot in a million."
"Looks like one of the rounds struck the badge that he was wearing. He was also wearing his protective vest," Marlatt said.
The officer was OK after being treated and released from a local hospital, Marlatt said.
Police released photos of a gunshot hole in the patrol SUV's windshield, and its hood.
Another officer returned fire. The driver, who was not identified, sped away and into Costa Mesa, where officers lost sight of the driver, Marlatt said. A police helicopter found the driver, and eventually the California Highway Patrol picked up the chase on the 55, 91 and 15 freeways at speeds well over 100 mph.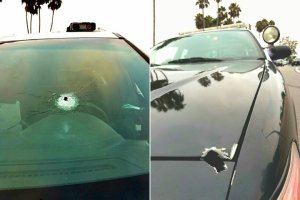 The driver eventually lost control of the vehicle and crashed near Cleghorn Road in the Cajon Pass. Video showed the car erupted in flames soon after crashing.
The man inside the vehicle died in the crash, Marlatt said.
The officer who was shot had injuries that were not life threatening. He was treated at a hospital and has been released.
The incident will be investigated by the Orange County Sheriff's Department, which is standard procedure in officer-involved shootings.