This is an archived article and the information in the article may be outdated. Please look at the time stamp on the story to see when it was last updated.
Officials on Tuesday identified the driver who led police on a short pursuit in San Bernardino and then crashed into another vehicle, killing himself and an innocent father of two.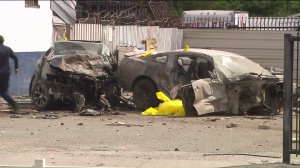 The incident began when the driver of a Honda refused to yield to a San Bernardino County Sheriff's Department deputy during an attempted traffic stop near La Cadena Drive and Mount Vernon Avenue in Colton early Monday morning.
The deputy began to pursue the driver, but ended the chase after the person in the Honda began driving erratically, said Lt. Rich Lawhead of the San Bernardino Police Department.
A short time later, after reaching speeds near 100 mph, the Honda ran through a red light and into a tan Mustang near the intersection of Mount Vernon Avenue and Rialto Avenue, Lawhead said.
The driver of the Honda, identified by coroner's officials as 30-year-old Rudy Javier Vargas, from San Bernardino, was killed in the crash along with one of the two people inside the Mustang.
The man killed in the Mustang was identified by his fiancé as Alex Peyro.
"He was full of life. He loved his community," Sarah Sillas said of her fiancé.
Officials said Peyro, a father of two, and a coworker were headed to their job Monday morning when the collision occurred.
"He was a good guy. Very talented ... good father ... a good person all the way around," friend Andrew Armendariz said.
The coworker was also injured in the crash, but was expected to survive.
A memorial of flowers was seen at the crash site in honor of Peyro Tuesday morning.