This is an archived article and the information in the article may be outdated. Please look at the time stamp on the story to see when it was last updated.
A police pursuit of a man driving a silver Corvette came to violent end Friday night in downtown Los Angeles.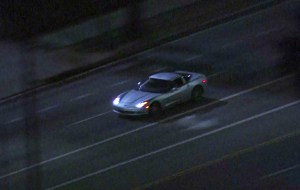 The chase began with East L.A. sheriff's deputies around 9 p.m. near Firestone Boulevard in South Gate.
The man, who at times was driving without his headlights on, was being pursued for reckless driving and possible DUI, according to sheriff's officials.
At one point, deputies backed off the Corvette and allowed the department's airship to follow the car through Cudahy, Huntington Park, South Gate and Walnut Park.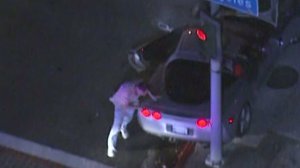 The LAPD picked up the chase when the driver entered the South Los Angeles area.
The pursuit came to a end in downtown L.A. around 10:30 p.m. when the Corvette slammed into another vehicle and sheared off a fire hydrant near Olympic Boulevard and Los Angeles Street (map).
The driver stumbled out of the Corvette and appeared to being trying to flee on foot.
But video from Sky5 showed the driver collapse on the sidewalk next to the car after apparently being shot by police.
He was treated at the scene by paramedics and later transported to a hospital.  His condition was unknown.