This is an archived article and the information in the article may be outdated. Please look at the time stamp on the story to see when it was last updated.
Two people were taken into custody Thursday following a stolen vehicle pursuit that began in Whittier and ended at a Target store in Azusa.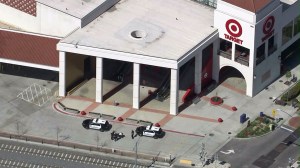 Authorities received a call about a stolen vehicle near the intersection of Mulberry Drive and Mills Avenue in Whittier (map) at about 11:49 a.m., according to Sgt. George Suarez of the Los Angeles County Sheriff's Department.
Deputies began following the vehicle, but the driver evaded the patrol cars and the pursuit began, Suarez said.
Deputies stopped the pursuit and went into surveillance mode when the driver started driving recklessly, according to Suarez.
Authorities then followed the suspect to a Target store in Azusa.
Several patrol cars surrounded the store, located at  809 N Azusa Ave. (map), aerial video from Sky5 showed.
A man and a woman were taken into custody a short time later, Sgt. Kimberly Guerrero of the Sheriff's Department confirmed.
The Azusa Police Department tweeted that police were completing their investigation and the store was open for business.
Officers are @Target completing an investigation. The store is open for business/no harm to the community at this time. #expectmorepayless

— Azusa Police (@AzusaPD) March 5, 2015