This is an archived article and the information in the article may be outdated. Please look at the time stamp on the story to see when it was last updated.
Two pursuit suspects were taken into custody following an officer-involved shooting in Anaheim that left one of the suspects in critical condition Tuesday night.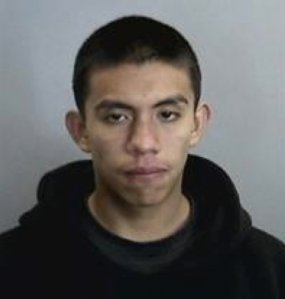 Authorities responded to an assault involving a firearm report in the 1800 block of West Neighbors Avenue just before 6 p.m., according to a news release from the Anaheim Police Department.
A man told police he had been physically assaulted and taken against his will by two men and a woman who were in possession of various weapons, including a hand gun, the news release stated.
Investigators identified the suspects as 25-year-old Frank Velasquez and 20-year-old Alan-Osvaldo Reza-Palamino.
About 10:35 p.m., officers spotted Velasquez and Reza-Palamino entering a car with an unknown driver in the same area where the assault took place.
Following a slow-speed pursuit, Reza-Palamino ran from the vehicle and an officer-involved shooting occurred at some point during the foot pursuit, the news release stated.
Reza-Palamino was struck and taken to a nearby hospital in critical condition, according to the Police Department.
It was unclear what prompted the officer to open fire. A handgun was recovered at the scene.
Body cameras being worn by the officers were activated at the time, the news release stated.
Velasquez was taken into custody and would be booked on suspicion of attempted murder, kidnapping, assault with a deadly weapon and gang enhancements, according to the news release.
Reza-Palamino was in custody at the hospital and expected to booked on suspicion of attempted murder, kidnapping, assault with a deadly weapon, brandishing a firearm, possession of a concealed firearm by a gang member, and gang enhancements.
Bail was set at $500,00 for each man.
The driver was not involved in the original assault report, but his role in the incident was under investigation.
Authorities were still searching for the female believed to be involved in the incident.