This is an archived article and the information in the article may be outdated. Please look at the time stamp on the story to see when it was last updated.
ANGELUS OAKS, Calif. (KTLA) — San Bernardino County sheriff's deputies continue looking for answers about the final dramatic moments in the manhunt for Christopher Dorner.
They're sifting through the rubble of the cabin that burned down after a gun battle between Dorner and deputies on Tuesday.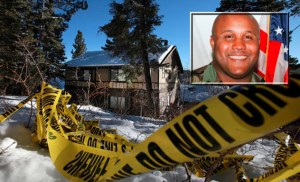 Authorities haven't officially confirmed that the body found in the cabin is Dorner's, but the Sheriff John McMahon says that will happen soon.
Meanwhile, McMahon says that the manhunt for the former LAPD officer accused in four murders is now over.
Among those allegedly killed by Dorner is Det. Jeremiah McKay, who, along with another San Bernardino County sheriff's deputy, was hit in the shootout on Tuesday.
"The deputy sheriffs that responded to this active shooting scene yesterday are absolutely true heroes," McMahon said at a news conference on Wednesday.
"It was like a war zone, and our deputies continued to go in to that area and try to neutralize and stop the threat," he added.
McMahon was asked on Wednesday about how the fire at the cabin began.
Officers were overheard on the scanner talking about bringing what they called "burners" into the cabin.
The sheriff says that deputies first used traditional tear gas to try to flush Dorner out.
When that didn't work, he says they tried CS gas. It's a highly flammable form of tear gas, and it's more powerful.
"It was not on purpose. We did not intentionally burn down that cabin to get Mr. Dorner out," McMahon said on Wednesday.
"Pyrotechnic-type canisters are commonly referred to as burners," he added.
Another question is how Dorner was able to hide for as long as he did with so many people looking for him.
He stayed for as long as five days in a condo in the 1200 block of Club View Drive, near the Bear Mountain ski resort and just a stone's throw away from the sheriff's command post.
The condo was in an area where deputies had supposedly gone door-to-door searching for Dorner.
"I can tell you that the cabin in question had not been rented out since Feb. 6," Dep. Sheriff Steve Kovensky said. "As I said, there was an extensive search in that area of the cabins."
One final question pertains to the $1.1 million reward and who might get that — if anyone.
The reward language stipulates that the money goes for the capture and conviction of Chris Dorner. But Dorner is not going to be tried, since he's believed to be dead.
The man who Dorner allegedly carjacked says he believes he deserves the reward, and he'll fight to collect it.
-Eric Spillman reporting