This is an archived article and the information in the article may be outdated. Please look at the time stamp on the story to see when it was last updated.
A little girl in La Puente was being called a hero by family members on Tuesday for her quick thinking after her grandmother suffered a stroke.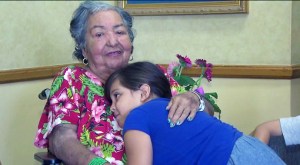 Miranda Monarrez and her grandmother, Consuela, were picking apricots when suddenly the 7-year-old noticed something was terribly wrong.
"I knew she was in trouble because she looked at me and one eye was half closed and the other was wide open and she was looking left the whole time," Miranda said.
Instead of panicking, Miranda went for help.
"Miranda comes running into the house… 'Antie, Antie, come. My grandmother.  Something is wrong with her'… so I dialed 911 instantly," aunt Mayde Monarrez said.
The Monarrez's family said Consuela has already made improvements in her recovery.