This is an archived article and the information in the article may be outdated. Please look at the time stamp on the story to see when it was last updated.
Los Angeles police are investigating a report of a racial slur painted on the gate of the Brentwood home belonging to Cleveland Cavaliers and NBA star LeBron James on Wednesday morning, authorities said.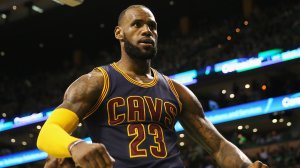 Officers received a call about 6:44 a.m. regarding a spray painted racial slur at the residence, according to the LAPD Officer Aeron Jefferson.
By the time officers arrived, the graffiti had already been sprayed over, Jefferson said.
The property manager was notified, and the incident is under investigation, he said.
Police have not identified any suspect or suspects in the case; no additional information about the vandalism was immediately available.
The 9,440-square-foot Brentwood estate was purchased by James for nearly $21 million in 2015, according to the Los Angeles Times.
Neighbors told KTLA that James doesn't spend much time at the residence, and that it was a mostly used as a summer home by the NBA star and his family.
James and the defending champion Cavaliers will be in Oakland Thursday night to take on the Golden State Warriors in the first game of the NBA Finals.
At a news conference ahead of Game 1, James responded to a reporter's question about the incident.
"My family is safe. At the end of the day they're safe, and that's the most important. But it just goes to show that racism will always be a part of the world, a part of America.  And, you know, hate in America – especially for African-Americans — is living every day," he said. "It's alive every single day."
KTLA's Ellina Abovian and Irving Last contributed to this story.