This is an archived article and the information in the article may be outdated. Please look at the time stamp on the story to see when it was last updated.
The California Highway Patrol issued a SigAlert on the 210 Freeway in Pasadena after a big rig jackknifed early Tuesday.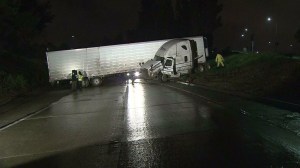 The big rig was traveling westbound on the 210 Freeway near the 134 Freeway interchange in rainy conditions around 3:40 a.m. when it lost control, struck the right embankment and jackknifed, according to CHP Sgt. Barry K. Jones.
A light pole was taken out as well, prompting a response from Cal Trans crews, Jones said.
Rain was a factor in the crash, according to Jones.
The driver, who was not injured in the solo-vehicle collision, said there was a pool of water in the roadway and the big rig fishtailed after he hit it.
He said he felt "very fortunate" that he wasn't hurt.
Video from the scene showed the big rig was in the center divider blocking the transition road.
A SigAlert was issued shortly after 4:00 a.m., according to a tweet from the CHP. It was canceled around 7:30 a.m., another tweet said.
The big rig was carrying about 16,000 pounds of clothing, according to the incident log.